We are now two weeks into the "Ticket to Prosperity" competition with the race to become Top First Global Credit Market Trader becoming ever more exciting. No clear leader dominates, with the top slot changing every day as people make new trades and lock in profits. However, as of Friday afternoon the competition lead is held by iaincm with an account value of 120.0516101 BTC.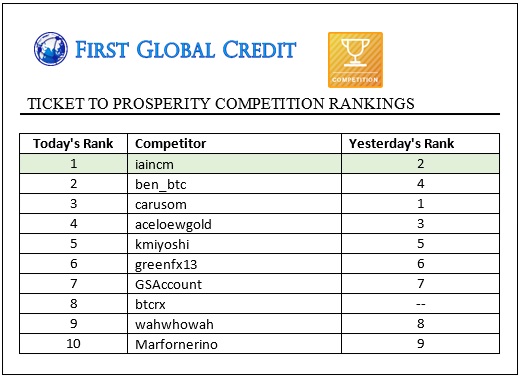 Only 2 weeks into the six week competition iaincm has achieved in excess of 20% growth in the number of bitcoins now held in their competition account. This kind of growth is a clear example of what can be achieved by following a dynamic trading approach using the leveraged trading that is part of the Active Trader Service.
In addition to getting the benefit of their correct analysis of the market, the account has been protected from the decline in the value of bitcoins over the past 2 weeks.
When the competition started the USD/BTC rate was $381.72, yielding an initial value of $38,172 worth of 'demonstration' bitcoins in the account. Since then the value USD/BTC rate has declined to approx. $350. This means that without any trading activity the dollar value of these bitcoins would have declined by 8.3%. But by using the value of the bitcoins as trading margin iaincm has successfully created a profit in excess of 10%. Iaincm's success clearly demonstrates the benefits that can be achieved by using bitcoins as margin to trade stocks and other markets.
About the Competition
The Ticket to Prosperity Competition uses a demonstration version of First Global Credit's Active Trader Service, which accurately simulates the live trading environment. Everyone participating in the competition gets 100 'demonstration' Bitcoins and access to over 50 fast moving markets using real-time market prices to make their trading decisions. This includes stocks, stock market indices, ETFs and precious metals.
The goal of the competition is to find the most talented trader capable of growing the value of their competition trading account. The winner will be provided with access to a fully funded trading account with tremendous potential based on their skill and intuition.
There is plenty of time to join in the fun, so register a competition account today.
Good luck!