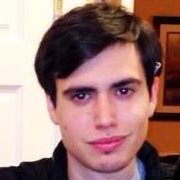 Equity and Bitcoin Trader Michael Caruso is the winner of the 6 week Ticket to Prosperity Competition run by First Global Credit. The competition launched on December1st 2014 set the task of using 100 'demonstration' bitcoins and 33 trading days to build a fortune using the Bitcoins as margin to trade over 50 stocks, stock indices, ETFs and precious metals. As competition winner Michael will be awarded access to a funded trading account with an initial capacity to trade up to the value of 10 BTC which is equal to about 2000 USD of positions at the time of this release. As the value of BTC increases and Michael amasses further profit the trading power of the account will increase.
Michael used a strategy of breakout or breakdown trades on high ATR (average true range) stocks to win the competition. Which means that he first screens all the available stocks using an ATR formula. This allows him to focus on those stocks that are volatile at that point in time. He then uses a breakout method to enter trades on any of the selected stocks that either break up or down from an established range. Then, he will take advantage of the market continuing dynamically in that direction. The particular equities that worked well during the competition were Priceline (PCLN) Amazon (AMZN) Biogen Idec (BIIB) and Netflix (NFLX) which allowed Michael to beat the 94 other traders who played.
"Someone with Michael's talent should do really well with his Live account," said First Global Credit Comms Director Marcie Terman, "Not only can Michael start to make significant profits for himself, but there are a few exciting perks along the way as the account hits certain milestones. For instance when Michael achieves a balance of 230 Bitcoins profit he will be able to hire traders to work underneath his account banner, accruing profit for his overall account. And when he gets to the 460 BTC level we will arrange the lease of a Porsche Boxster for him."
"We have decided that the profit on the account will be split permanently at 70/30, with Michael getting the lion's share of the profit" said First Global Credit CEO Gavin Smith. "Initially we created a slide scale that rewarded good trading performance with more of the profit," continued Smith, "but we have since decided to dispense with that and fix the profit share on the account at 70% going to Mr. Caruso, the rest being retained by First Global Credit."
Comms Director Terman adds, "people seemed to have such a great time competing and we found there was so much talent out there that we have decided to run the competitions as an ongoing company event."
The next competition will commence after the launch of our Collateral Currency Switch Service which has a go live date of February 1st. This service will make it possible for traders to use a dynamic strategy of not only trading stocks to make a Bitcoin profit, but to trade the Bitcoin margin in and out of 5 different Fiat currencies to take advantage of currency moves as well.
"Traders should find this new type of competition a real challenge," says CEO Smith, "and even in markets like the one we have just experienced, where BTC are dropping in value, they can use the Switching service to generate profit as well!"
To take advantage of the next competition simply register for a demonstration trading account and we will inform you by email well in advance when the next competition will begin.
In addition to trading the First Global Credit account, Mr. Caruso has recently left the firm where he was employed as a trader and is seeking new professional challenges trading either equities or options. Those interested in contacting Michael can do so through his LinkedIN profile or via email.
Read full Michael Caruso Interview
Learn more about the Collateral Currency Switch Service
Register for a free demonstration trading account