Nine days of practice trading time remain until the competition starts!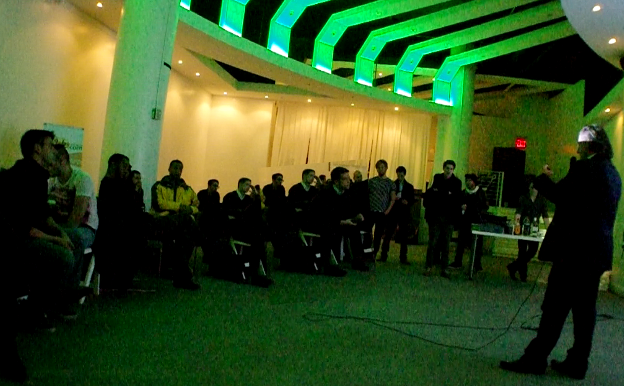 November 22, 2014:
First Global Credit yesterday announced the details of its "Ticket to Prosperity" competition in front of room jammed with avid Bitcoin Traders at The Bitcoin Center of New York located at 40 Broad Street just steps away from the New York Stock Exchange. The competition takes place using First Global Credit's Active Trader Service Platform and enables individuals to compete for the opportunity to become a market trader fully backed by First Global Credit.
People can sign up for a free demonstration paper trading account immediately and then when they log into the First Global Credit site on December 1st, they just need to select the Competition account. The Demonstration Paper Trading Account enables users to try out the trading system using simulated Bitcoins as collateral to make investments in stock, stock market indices, ETFs and precious metals. Although the investments are not "real", the simulation uses live price data and fee structure so reflects exactly what would happen in an equivalent live environment. "This includes an increase in trading power if the price of Bitcoins goes up while they are trading." Says First Global Credit Business Development Director Marcie Terman. "This service is about maximizing the earning potential of your Bitcoins while retaining them for their long-term growth potential."
First Global Credit will provide all competition participants with 100 'demonstration' Bitcoins to use as security during the competition. Every day the top ten traders will be reported on the First Global Credit's Facebook page and Twitter feeds. The winner will be announced 12 noon GMT Saturday, the 17th of January with access to the live trading account to commence the following Monday.
The competition will run from 1st December 2014 to 16th January 2015 and is open to anyone regardless of age. "Of course, we will have to find something to replace the Porsche Boxster lease that is provided when the star trader reaches Level 11 of the trading program if they can't legally drive; like in the case of a super talented 12 year old for instance," laughs Terman.
For full competition terms and conditions please go to Competition Terms for full information.
First Global Credit launched its Bitcoin investment service at the Inside Bitcoin Las Vegas at the beginning of October. That service, designed for people that prefer a buy and hold strategy has had clients using actual Bitcoins as investment collateral almost from day one and has been gaining dozens of users on a daily basis.
The website, www.firstglobalcredit.com makes it possible for those who have mined, purchased or received Bitcoins in payment to maximize the potential of their holdings by using them as security on investments in world-wide stocks, ETFs, commodities and stock markets indices. This is the first of five major service launches planned for 2014-2015, and the first of many investment options that will become available through First Global Credit over the next few months.
How to Participate
1. Go to www.firstglobalcredit.com/register and enter an email address to create a demonstration paper trading account. You will receive a temporary password at your email address which should be used immediately to log into the account. 'Demonstration' Bitcoins can be added to the demonstration account to be used as collateral for paper trades.
2. On the first of December when logging onto the website, select "Competition" from the pull down menu to start trading. Each competition account is seeded with 100 synthetic Bitcoins to be used for the full length of the contest. Lose them and you are out. Grow them to a value greater than any other trader and you win.
3. Your performance can be monitored on the Trade Statement tab of the competition platform. To see if you've made it into the top 10 subscribe to the @FirstGlobalCred Twitter feed.