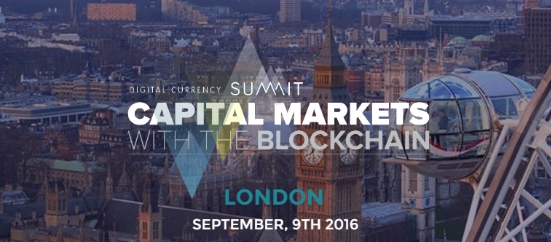 First Global Credit, a subsidiary of XBT Corp, will be a sponsor of the Digital Currency Summit's next event on September 9th at the BT Auditorium, 81 Newgate Street, London EC1A 7AJ.
The London event is the third one First Global Credit has been involved in, though this time in a more active role. In the past, First Global CEO Gavin Smith has been a speaker at the DCS conference in Barcelona as well as both delivering an address on the future of public blockchains and moderating a DAO Hack panel discussion in Brussels earlier this summer.
For the upcoming London event, Gavin will deliver an address on recent developments in the blockchain capital markets and participate in a panel discussion being moderated by Jon Matonis on The Challenges of Bitcoin and the Financial Industry. Joining him in airing their views on this subject are other industry luminaries including: Felix Moreno the CFO of Xapo, Joe Lee Magnr founder, consultant David Peyronnin and Philippe Vannier of Bitspread.
Digital Currency Summit's events are designed to appeal to mainstream financial service professionals giving them the opportunity to be exposed to the best and the brightest leaders in the blockchain space. It also poses an excellent opportunity for networking and making contact between blockchain professionals and the mainstream financial service sector.
Gavin Smith will use this opportunity to discuss the benefits case for the development of public blockchains and the need for transparency to aid in the maturation of the industry. He will be putting this in the context of recent industry events that have brought these questions to the fore.
There is also a wide variety of other speakers and panels including the delivery of 6 pitches by blockchain start-up companies and the Keynote Address entitled Blockchain in Capital Markets: Disruption or Incremental Improvement being delivered by Jonathan Philp the head of Treasury and Capital Markets at Everis.
XBT / First Global colleagues and customers are invited to sign up for tickets and to attend benefiting from a 25% discount on the event using the offer code. FGC25LONDON. This discount makes the cost of attending the all day event to £112.50. For further information and to get tickets please visit the website at http://digitalcurrencysumm.it/london-capital-markets-blockchain/.