Panxora is based on trading from Watchlists. This is more efficient because traders monitor only the markets they are interested in trading. To set up a Watchlist with markets you want to track select 'Create New' from the Watchlist dropdown menu.
Open the list of available markets by clicking on the '+Add Market' button to see the full range of markets.
Enter the market you are looking for in the box. There are over 500 stocks from 4 countries, dozens of ETFs or tokens available to trade on the site. (Did you know that verified traders can request that markets be added to the Exchange? Just email [email protected] with your market selection.)
The Watchlist is the Key to Panxora Trading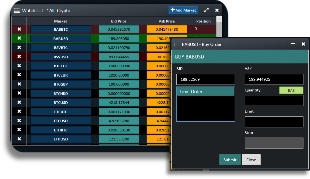 Now that you've created a Watchlist with your set of markets, save the Watchlist so you can reopen it any time you return to the exchange.
What you can do with a Watchlist
Click on the market name to pull up charts.
Click on the BID or OFFER to open a BUY or SELL Order Ticket.
You can save as many Watchlists as you like. For instance, a tech stock watch list or fast moving cryptos or choose from a range of pre-built watchlists.
Read the full Online Trading Manual or watch the Introduction to Trading on Panxora video tutorial.
Log in to the Panxora Exchange.